Congratulations to Our 2020 TV Fellow, Kelly Strathmore!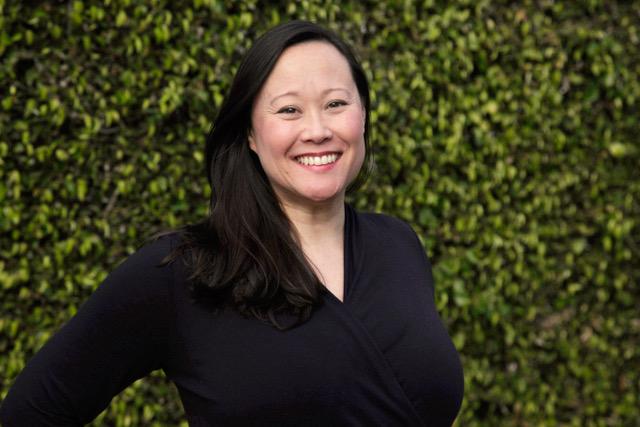 We're thrilled to introduce our 2020 CineStory TV Fellow, Kelly Strathmore, whose winning original comedy script, EAST PALO ALTO, impressed us with its unique voice and quirky, vibrant characters whose antics are well worth following into a full series.
As this year's Fellow, Kelly will receive $1,000, free tuition and housing for this year's TV Retreat, and a 12-month mentorship with 2 Hollywood professionals hand-picked to help advance her craft and career.
Kelly is the daughter of a Korean factory worker turned housekeeper and former drill sergeant turned maintenance worker. Her blue-collar, multi-cultural roots as an Indiana farm girl turned Silicon Valley tech nerd inspire her to draw from a deep personal well of intersectional axes for her storytelling. The extreme disparity in wealth and education she experienced firsthand in the Bay Area fuels her passion for creating stories of social justice that highlight the inequalities of have and have-nots in American culture.
Kelly is an expert puzzle-solver and it makes sense that her stories often center around heists and murder mysteries with scrappy schemers from humble beginnings. She's also an academic scholar, recently graduating with an MFA in Film & Television from the UCLA School of Theater, Film, and Television. Along with her screenwriting, her academic research mirrors her quest to give a voice to marginalized groups while exploring the perceptions of race and class in a way that celebrates diversity of cultures, personalities, and beliefs.
Kelly has been awarded scholarships and placed in the upper echelons of prestigious competitions, including the UCLA Alfred P. Sloan Foundation Screenwriting Grant, Jay Grossman Comedy Writing Award, Stephen N. Gershenson Memorial Scholarship, the Austin Film Festival Screenplay Competition, and the Writers Guild Foundation Pitch Competition. Her love of screenwriting also connects with her love of community service work, which includes the Young Storytellers Foundation and guest lectures, most recently at the UCLA Graduate School of Education.
Please join us in congratulation Kelly Strathmore, our 2020 TV Fellowship winner!
https://cinestory.org/wp-content/uploads/2020/02/Strathmore_CineStory.jpeg
427
640
Colette Sartor
https://cinestory.org/wp-content/uploads/2017/09/CineStory-logo-orig.png
Colette Sartor
2020-02-22 14:43:27
2020-02-24 09:28:54
Congratulations to Our 2020 TV Fellow, Kelly Strathmore!