May 10th From Script to Screen with Academy Award Nominee Mark Fergus
In concert with our friends at Filmmaker Junction, CineStory is proud to announce the next guest in the From Script to Screen discussion series. CineStory alum and frequent mentor Mark Fergus is an Academy Award nominee and writer of films such as FIRST SNOW, CHILDREN OF MEN, IRON MAN and the upcoming COWBOYS AND ALIENS.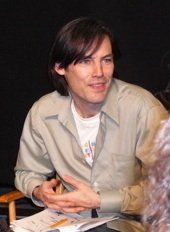 Come hear about how Mark broke into screenwriting and built a successful career.
No normal writer Q&A, From Script to Screen is a creative and practical autopsy of how a script goes from the the written word to the silver screen. These evenings will provide detailed insight into how produced writers conceived their story, approached the writing process, had their screenplay picked up and what happened to their script during production.
Second in the series: Mark Fergus
Tuesday April 10th, 7-9pm
The Station @ The Working Village
212 Marine Street suite 100
Santa Monica CA 90405
Ph: 310-450-7070
$20 in advance, $30 at the door
Coming in July: CineStory mentor Glenn Gers (FRACTURE, MAD MONEY, DISGFIGURED)! Stay tuned.
CineStory writers receive 15% off From-Script-to-Screen and all other Filmmaker Junction events with coupon code: Cinestory.  
Visit www.filmmakerjunction.com for tickets and other information.
https://cinestory.org/wp-content/uploads/2019/05/ACF2AE31-A525-40E2-9D4D-577BC33CD76A.jpeg
232
170
Colette Sartor
https://cinestory.org/wp-content/uploads/2017/09/CineStory-logo-orig.png
Colette Sartor
2011-04-21 14:45:03
2019-05-03 09:09:11
May 10th From Script to Screen with Academy Award Nominee Mark Fergus