Academy Award Nominee and Mentor Mark Fergus on the CineStory Screenwriting Awards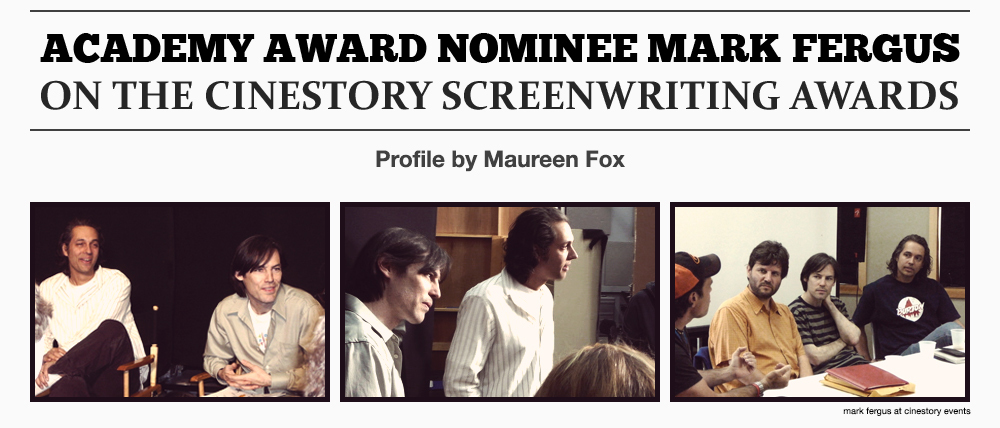 Writing duo Mark Fergus and Hawk Ostby first became involved with CineStory when they won the Grand Prize in 1999 with their script, FIRST SNOW (2006). Since then they've gone on to become Academy Award nominees and work with some of the biggest names in Hollywood on films such as IRON MAN and COWBOYS AND ALIENS.
Maureen Fox recently wrote a profile of Mark:
Mark Fergus grew up wanting to be Steven Spielberg.
As a teenager in New York City in the '70s, he saw Close Encounters and was awestruck. He couldn't believe making movies was really a job. But that's what he wanted to do – make movies. And Spielberg made him believe he could.
"Steven Spielberg's story was pretty mythologized back then about the way he busted in, just kind of waltzing in and deciding he was going to be a filmmaker," Fergus said. "Who knows how much of it was true, but it made you think, here's this kid who just wanted to do it, and start to feel like it was possible."
The writing came later, when Fergus realized he needed to learn to tell a story first. "If you didn't know how to write, you really didn't know how to make a film," Fergus said. "It just kind of came out of necessity."
But there weren't a lot of opportunities to learn how to write scripts. Fergus attended Boston University, which had a film program, but he had trouble getting into the classes. Film courses were reserved for film students, and as a business major, Fergus was shut out from most classes.
So he taught himself. His philosophy was trial and error. His film school was watching films and reading scripts. His education came from writing constantly, as he tried to become a better writer with every project and competition. From high school through college, he learned by doing.
"I wrote some pretty bad scripts, and I wrote some slightly better ones," Fergus said. "I just kept going from there, learning how to write and learning how to not write, how to make your mistakes and learn from them."
Fergus did learn. Today, he is an Academy Award nominated screenwriter, as well as a successful director. Fergus and his writing partner Hawk Ostby wrote the scripts for Consequence (2003), First Snow(2006) and Iron Man (2008), and they were nominated for Best Adapted Screenplay for Children of Men(2006). Fergus and Ostby also won the CineStory Screenwriting Award in 1999. Fergus's journey has been a challenging one, but he owes his success to his self-taught education and to his experiences at CineStory.
After graduating from college, Fergus returned to New York and did everything he could to learn more about the film business. He worked for the Fox-Film Company in accounting for several years, and he continued to write scripts. But the best education he received came from reading scripts for HBO.
As a freelancer, Fergus learned how to do coverage and read hundreds of scripts that were being considered by HBO. There were very few good ones, but Fergus got to see firsthand what a story needed to be great. "You learned what made them work, what made them fail, how they went off the rails," Fergus said.
Fergus was soon able to bring what he learned to a writing partnership. Fergus met Ostby through a mutual friend, and the two began working together right away. They have remained partners and close friends ever since and built their reputations together. Fergus believes their partnership is a happy accident and credits Ostby with helping him get through the difficult parts of the writing process. "It's a really cool thing to be able to have someone who is an expert at what you don't want to deal with" Fergus said.
Their first collaboration was on one of Ostby's projects. Fergus read the script and was immediately impressed. Together, they finished the piece, and Fergus took it to HBO, hoping it might be considered.
His supervisor bought it that same week, and the result was Consequence, which premiered on HBO in 2003. Fergus was not happy with how the film ultimately turned out (stories can change a great deal through the filmmaking process), but it was his and Ostby's first credit and first paycheck. Maybe they weren't crazy after all.
But Fergus and Ostby still had a lot to learn. After the success of Consequence, the two tried to write blockbuster films to plow their way into the business, but they weren't getting anywhere. The problem was that they were trying to write movies they thought would make big money, not stories they were passionate about. It must have showed, because film companies weren't buying.
Frustrated, Fergus and Ostby decided to take a step back, reexamine their screenwriting approach, and write something they really cared about. Inspired by the low-budget thriller In the Company of Men, the two wrote First Snow. It was their final effort to jumpstart their careers. If it didn't work out, they would go and get real jobs and leave screenwriting behind.
Fortunately, it worked. First Snow was a success, and it helped Fergus and Ostby win an agent and some small screenwriting competitions. It started their careers, just like that.
"We could not figure out how to get started, and it turned out that really the simple solution was to write from your heart, to write from your own voice," Fergus said. "That literally made one hundred percent of the difference."
It was then that Fergus and Ostby found out about CineStory.
CineStory is a nonprofit association dedicated to helping new screenwriters improve their writing skills. Based in Idyllwild, California, CineStory consists of film industry professionals who consult with screenwriters through mentorship programs, workshops, classes and retreats. CineStory strives to help screenwriters create the best writing possible by fostering their unique voice and by instructing them in the essentials of cinematic storytelling.
CineStory is especially known for their annual screenwriting awards, in which the grand prize is a CineStory Fellowship valued at over $14k. As part of the fellowship, the winner receives a cash award, a one-year mentorship program with two industry professionals and an invitation to attend the CineStory Retreat for free.
Fergus liked that CineStory was focused on making screenwriters better writers rather than on empty promises of instant Hollywood success like other contests. "Everything about CineStory is about the writing and the work," Fergus said. "It just sounded like the right type of approach."
So Fergus and Ostby submitted their script for First Snow to CineStory. They won. And their experience at CineStory became one of the greatest learning opportunities in their career.
Fergus was especially impressed with the help he received during CineStory's retreat. Each retreat attendee has at least three one-and-a-half hour meetings with working industry professionals to go over his or her work and to receive feedback. "Going to CineStory was a real way of assessing where you were at," Fergus said. "It's not threatening or scary; it's a challenge. You work with people who really know the business."
CineStory taught Fergus and Ostby to take their script apart and discover what their story was really about. "Screenwriting is all about getting stuck. When you get stuck, and you don't know what to do next, you need to know what the core, the heart of your story is" Fergus said. CineStory showed them how to find that heart.
CineStory also taught the two writers how to find their own voices and put them into their work. "People respond to real passion and truth, and when your voice is on the page they can tell," Fergus said. CineStory pushed Fergus and Ostby in the right direction and helped them feel more confident in their writing. "It was one of those great timing things in life where the teacher that you need appears right when you need them," Fergus said.
After their fellowship with CineStory ended, Fergus and Ostby continued to build their screenwriting careers. They received their Academy Award nomination for Children of Men, and Fergus directed First Snow in 2007. Fergus and Ostby also wrote the wildly successful Iron Man, starring Robert Downey Jr., in 2008.
Fergus is grateful for CineStory's influence, and he is still involved with the organization today. Like many other CineStory mentors, he attends retreats and serves as both a contest judge and board member. "Everybody does it surely for the passion of trying to put back some of the energy that they got out of it for other writers," Fergus said. "It has a really great spirit like that."
Fergus and Ostby are also continuing to add credits to their resumes. The two are currently adapting James Patterson's book Maximum Ride for the screen, and their next film, Cowboys & Aliens, starring Daniel Craig, will be released in 2011. Fergus and Ostby are also hoping several other projects they have worked on will get made into films. "You write each one as if it's going to be the next great movie, and just try to believe that there's always a movie at the end of it," Fergus said.
"I keep waiting for the day when it's all so easy all of a sudden" Fergus said laughing. It never comes. But Fergus loves what he does, and he continues to learn and compete to stay sharp as a writer. You do what you can to stay in the game.
And Fergus has always learned by doing. He may have started out wanting to be Steven Spielberg, but he learned that he really needed to be himself. He found success by sticking to his own personal voice and vision.
Fergus hopes other writers will be able to learn from his career.
"Trust your own experiences and be as original as possible," Fergus said. "No one else has your voice. The more you can tap into that, the more it's going to shine on the page. And that's what they're looking for."
This profile was also published by Moviebytes.
https://cinestory.org/wp-content/uploads/2011/01/CineStory_markfergus_article_page.jpg
428
1000
Colette Sartor
https://cinestory.org/wp-content/uploads/2017/09/CineStory-logo-orig.png
Colette Sartor
2011-01-10 12:25:38
2019-05-03 09:06:47
Academy Award Nominee and Mentor Mark Fergus on the CineStory Screenwriting Awards